| Forum | About | Members Pages | Club Meets | Administrators | Links | Contact |
The Ssangyong Owners Club Meet
July 21st - 23rd / Northamptonshire (Napton)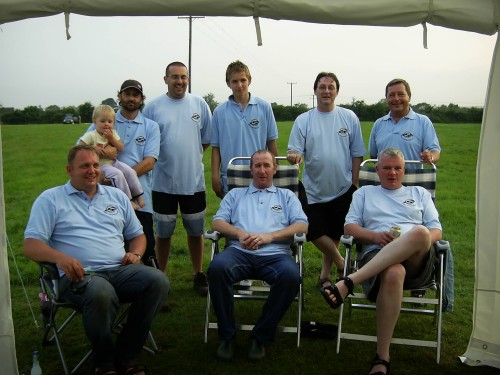 Arriving at Napton on the Thursday evening after basking in the comfort of air con I was greeted by the lovely hot humid weather. Looking around the site was Dr Siddeley ( Alan and Hazel) having arrived not too long before me. We promptly did the important bits of getting vans levelled fridges on and beers cooling :). Not too long afterwards Andi ( Andi Chris and Heather) was heard approaching from a few miles away nice exhaust note. The remainder of the Thursday was spent chatting and having a couple of cold drinks to recover from the journeys Andi having travelled over 150 miles and myself about 100 and Dr Siddeley having just got his Musso back from repair shop to attend meet :).
The Friday dawned with lovely weather with Brutus ( Chris and Melissa) arriving and Spitfire (Gareth and Victoria) oops I had best hide. Went away to stock up on essentials and more had arrived Griswald ( Steve, Rachel, Oliver, Courtney and Darcy) Musso Magic (Rick and Wendy) last to arrive but by no means least was Croft Manor (Andy and Mandy) also in attendance where the usual children of the four legged variety Sasha, Digit, Kassie (Cone Head), Chip and Sally
In the basking early evening sunshine the new Marquee was erected a far more substantial piece of kit apart from the guttering which needs working out as much head scratching. The end product though seems far more substantial and was tested to the full over the weekend. The sun obviously does funny thing to some men of a certain age as they where seen racing around the field on children's pushbikes then chasing Frisbees (mad fools). The evening rounded off with smell of BBQs and then some social drinking and chatting in the marquee. Well at first everyone was outside marquee spend all that money then sit outside are we mad mmmm yes
Saturday saw a cooler more overcast start to the day oh how we love the weather :) visits from robandjo2 in their tidy GX220, Rodiusrob in a well guess from the name :). The GX 220 was examined and some small bits tweaked and the rodius admired for the sheer space and echo you could make inside. Then the rain arrived and more arrived then the wind just thought to say hello with gusts at storm force the roads afterwards where littered with fallen branches but the new marquee stayed put. UKTotty arrived in the middle of the storm then came into the shelter of the marquee for a cuppa. The evening saw everyone relaxing with takeaways and then Mileoman arrived as the weather had improved back to warm and humid we popped out to see him and he had some lovely embroidered T-shirts and polo shirts for sale with Ssangyong badge and ssangyong club.co.uk upon them. Then it was Chinese auction time traumatizing for children and then quiz time. Soon it was time to relax with another cup of tea stronger for the grown ups of course.
Sunday another overcast cool morning but forecast to brighten later saw Griswald slowly packing ready to continue his holiday down to Devon. Walter than arrived in his lovely HiRoof Musso and was greeted by all. and his car examined, check the A bar and seats are still there Walter as much admiring of them was undertaken. Then three cars went to explore the byways followed soon after by yours truly ok I couldn't resist.with the previous rain the top had become nice and loose and good for a nice long power slide. and followed by a river washing cooled it all down. Walter then brought out baseball caps with Musso embroided on them much to everyone's delight more sales made :)
Griswald had left by the time we returned followed in the evening by Croft manor another evening of food and drinks and chatting before bed time.
Monday so soon time to pack up the marquee dismantled and passed out and back on the road waiting for a month till the next meet hope to see you all again then and some more faces as well the more the merrier.
Come on guys & Girls someone send me some more pictures to post here

All Images Copyright 2005 Ssangyong Owners Club