Well another meet done and dusted... yes it was very dusty for the first few days. I wasn't able to arrive till the Saturday which was a shame being the closest member to the site only having to travel a mere 165 miles, compared with some members reaching nearly 400 one way. Upon arrival in the area I was met by the trusty signs saying "Ssangyong owners club meet" and little direction arrows. Upon arrival the first thing I noticed was it was quite windy and no Marquee, ah they had a marquee flying competition during the night with a competition to park it on top of Crazy Musso's Car, well it keeps the rain off.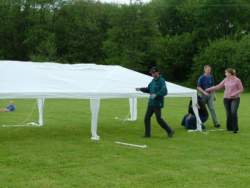 Not being people to sit around Brutus had gone off and scoured South Wales and found another one as the old one was beyond even our normal bodgit skills. After setting up it was a relaxing chat with old friends in Spitfire's Awning as still too windy to put the new one up. Around half one in the morning it was decided to go to bed by Spitfire going to his bed and saying night all :). The Sunday was a relaxing day with some marquee re erecting and pegging down with industrial strength pegs and that evening the quizzes and chinese auctions flowed along with tea and other alchoholic beverages.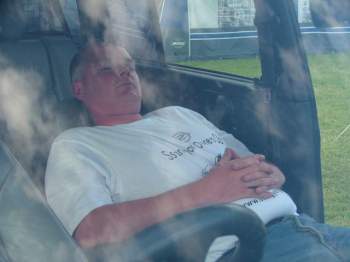 The Monday was another day of bright sunshine so It was decided for a few cars, six of them to go off and terrorise the local neighbourhood on a trip to Pendine sands but denied access due to being bank holiday Monday, but a big thank you to the local Policeman in his 4WD pointing us in the direction of a pebbly beach where we could play, joined by Poacher in the Rexton we where now seven cars which caused a few heads to turn and some 4wd playing was done and Spitfires winch was tested when Andi got stuck due to his car not being able to select 4wd. After some playing a trip to the local Fish and chip shop saw another village being scared by lots of big cars pulling in and people running to the chip shop (ok walking). Now fed and watered it was decided to go play in a forest which we did the only casualty being SteveI knocking the end cap off one of his side steps and splitting his tow bar electrics. and Scenic being told to slow down when in the lead :( Deets didn't think I was going too fast. A lot of dust was raised and shiny Musso's returned very dusty.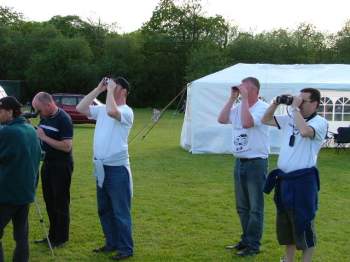 The Tuesday it was decided to head off to the west coast six Musso's in a row, which we did via a number of very small twisty lanes and steep hills discovered the Automatics don't like the long down hills as their brakes where well cooked by the bottom with Andi having to stand on his pedal to avoid Spitfire and Brutus admiring scenery had his ABS given a full work out when he discovered the cars in front had stopped mine being the one in front of him. After a visit to a beach and discovering too many people upon it we headed back via another way found a ford and a narrow lane look for signs saying unsuitable for motor vehicles you then find Musso's down them.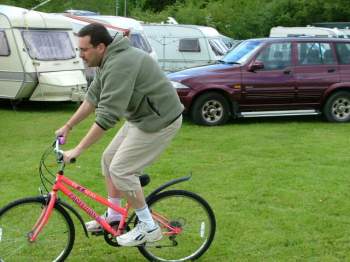 As we headed back to the previous days playground we got a phone call from the others to meet us all there so we now had nine musso's travelling along the tracks. Once again our casualty of the day was SteveI knocking off his complete side step this time the opposite side to the one we fixed :) but once again repaired back at home base with a bit of spanner work. Andi had done the fuel pump modification that morning and reported it had a lot more power on the hills. Wednesday morning Scenic found under bonnet doing his fuel pump and then Andi doing Spitfires as he had done his back in. Modifications complete away to play in the afternoon.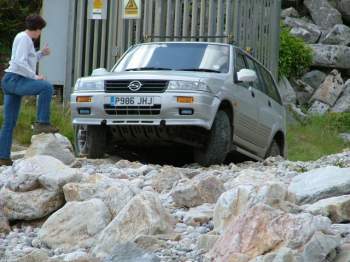 Found some nice mud after the mornings rain and did some good playing with crazy getting stuck on a little hill :) and Spitfire coming to the rescue to tow him up the hill. Found a few more lanes one straight through someones front garden it looked like and another ford and a very narrow lane well so narrow you couldn't open the doors as stone walls on either side and a concrete path about the same width as musso wheels with a nice drop on either side which andi found makes a nice bang as we didn't have SteveI to do any damage the award must go to Andi for that days best incident.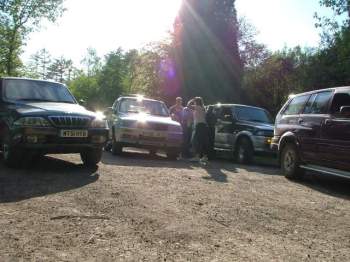 All too soon it was Thursday and I had too leave to go to work. But a fantastic time I believe was had by all and definitely increased peoples opinions on the capabilities of their cars and look forward to the next time.